The Materials Science and Nanotechnology Club of Çankaya University was founded in order to contribute to the academic development of our students by following worldwide developments in materials science and to broaden the general knowledge base in materials science and engineering.
For forms, job descriptions and details, please contact The Career Planning and Cultural Affairs Department (only available in Turkish)
NanoÇankaya News
Engineer Kadir Çıtak, MSc, will give a speech on "The Role and Importance of Materials Science in the Defense Industry" on April 4th at 14:00 in the Blue Hall.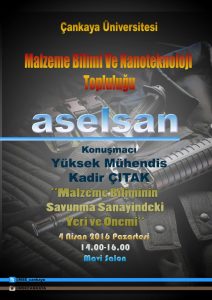 The "Turk Traktor" trip will be held on April 11, 2016, by the Materials Science and Nanotechnology Club. Those interested can contact the phone numbers listed on the poster.